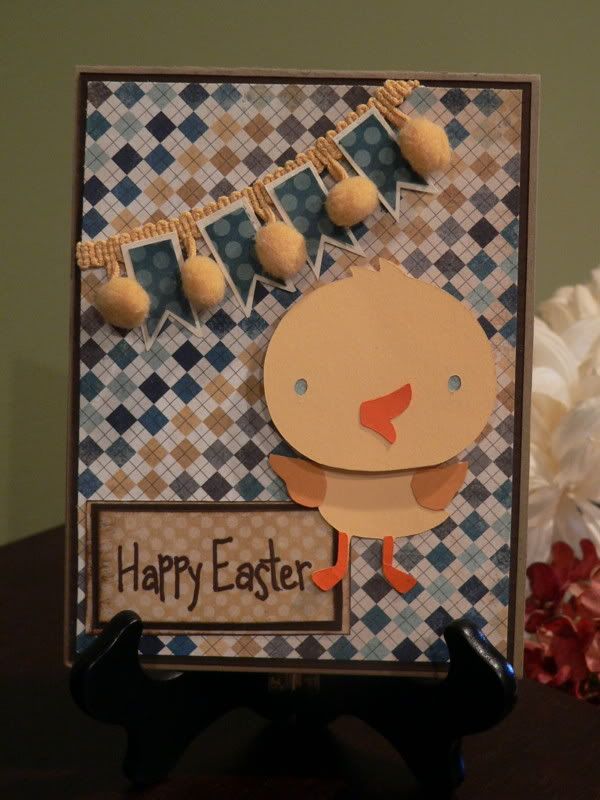 Hey everyone! I have to tell you that I had the most fun last night!! My friends Betsy (can you believe you're getting another mention here??), Wendy and Lori let me join them at Archivers last night for a few hours while they scrapbooked and I made a few cards. We laughed, shared stores, and got to be creative all at the same time! I had so much fun and I hope that I get to join them again soon!
So, while I was there last night, I was able to get 4 cards done (well, almost done). One of them was this Easter Chickie card that I am entering into the BBTB2 challenge for this week. The challenge was to use the chick image from the Easter 2010 cart or a chick from another cart you may have. This was quite a challenge for me because I didn't have a chick on any of the 15 or so carts I own! So, last night Betsy was nice enough to let me use her Gypsy (and Betsy, I'm afraid you might be right...I may be becoming a Gypsy girl) and cut the chick from her Create a Critter cart. I think he's so cute!!
Thank you all so much for looking and please don't forget to post your latest projects using the link on my last post! I love seeing what you're all up to!
Kate