Ok, so I'm going to take a little departure from my normal posts because I wanted to share a wreath I made recently for my front door! You see, I'm from the great state of Kentucky, and not only that, I get to live in the city of Louisville, which if you didnt' know, is the home of
THE
Kentucky Derby!
I absolutely adore all things derby. This is one of my favorite times of the year. There just seems to be an electricity in the air around town for the two weeks leading up to the derby. There is constant buzz about the derby festival events (Thunder Over Louisville, the mini marathon, the chow wagons, the balloon glows and race, the bed races, the great steamboat race, and I could go on and on), and about who is lucky enough to be going to the Oaks and Derby...oh, and what they are wearing!! The dresses, shoes, suits, ties, and the HATS! Oh, the hats!
Really, there are fewer things that make a woman look more glamorous than a great derby hat! Seeing all the ladies and gents in their finery makes me feel like a little girl playing fantasy dress up.
So, you may be wondering...do
I
get to go to the Derby? Well, the answer is no...and I'm good with that. You see, we have a great big party at our house every year where everyone brings a dish and sits around betting on the races and playing lots of fun party games. I throw lots of parties throughout the year, but the Derby party is by far my favorite! It's no pressure...just FUN!
Part of the fun of the party, for me, is the decorations. I decorate just about every surface I can find! I collect all sorts of derby related items at yard sales and other out of the way places and turn them into party decorations. This year, I decided I needed a new wreath for my front door, so I went to town gathering things from my craft room to put together something fabulous, and here's what I came up with!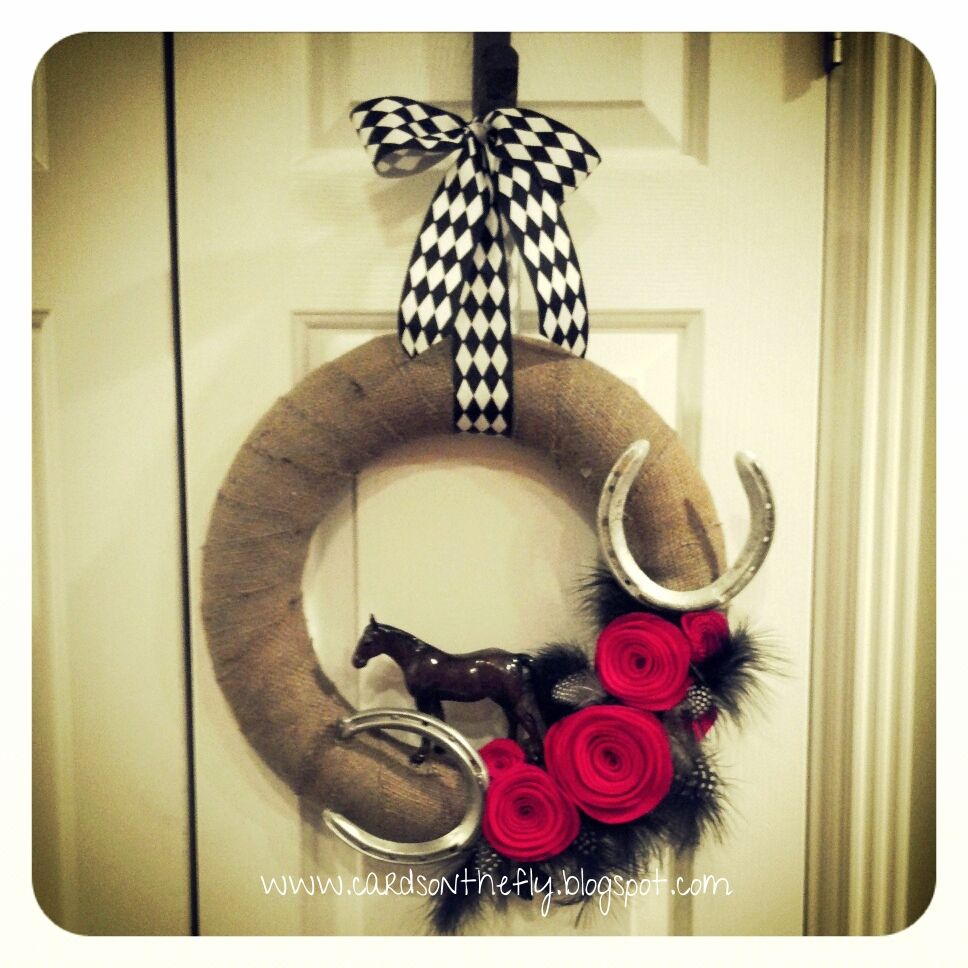 I love it! It incorporates some of my favorite crafting materials...burlap, felt, ribbon...and feathers! The horse and horseshoes were in my stash of decorations and I think they add just the right amount of kitchy derby flair!
Thanks so much for visiting and reading, and happy derby!!
Kate