Hi friends! Well, it was back to work today, and what a day it was! I am the database administrator at a local girls' high school, and I am responsible for getting all of the report cards out after each quarter. Today I was supposed to begin the process for the second quarter report cards, but we were having MAJOR technical difficulties and it was a lot of trouble shooting and then waiting all day. I sure hope that tomorrow goes smoother than today!
On to today's project…a memory book for my Dubber's 40
th
birthday. Who the heck is Dubber you ask? My "Hubber-Dubber," of course! When we first got married, I started calling John my "Hubbers," and then it stretched into "Hubber-Dubber", and then was shortened again to "Dubber". He calls me "Babe." We very rarely call each other by name, and when we do…you KNOW it's serious! I know that this sounds all sappy and stuff, but really it's not. We are definitely not the sweet, sugary types. We just have a very lighthearted relationship and calling each other by name sounds so serious!
Anyway, John/Dubber actually didn't turn 40 until two days after Christmas, but to really surprise him, I planned his surprise party at a bowling alley a couple of days after Thanksgiving. Most of his family lives out of town, and they were all visiting for Thanksgiving so I thought that was a great opportunity to get everyone together and celebrate John!! I had T-Shirts made for the guests…in fact, here's a picture of the birthday boy in his shirt! He's holding a bottle of his favorite bourbon with an altered label courtesy of his aunt!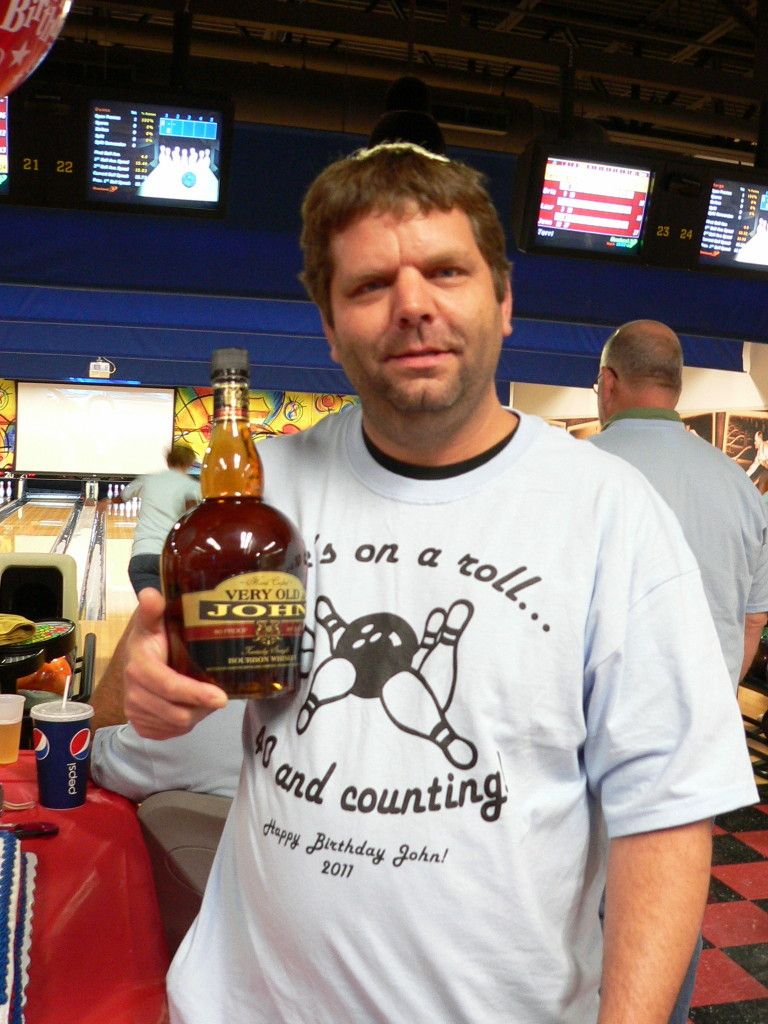 One thing I really love about John is that he is extremely sentimental. He tends to keep every scrap of paper or object that has any sort of meaning to him, so I thought he would really enjoy having a memory book that all of the guests could sign while at the party. This was such a good idea that unbeknownst to me, his mom also came up with a cute idea to have everyone sign an old bowling pin which she had painted. We now have lots of mementos from this fun day!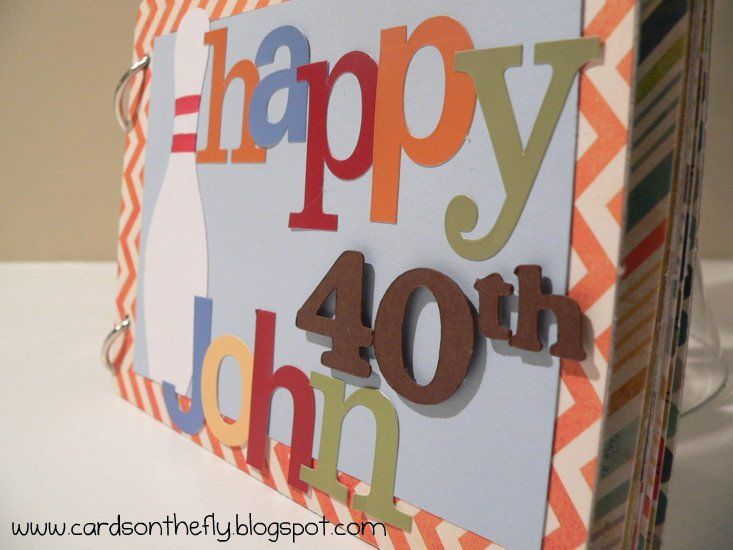 The book was really simple to make. I just covered some plain pre-cut chipboard pieces that found at Michaels (a set of 4 for $1) with some cute but masculine (and even a little bit retro) patterned paper. I cut out a bunch of bowling pins and balls using SCAL and my Cricut. Here are a few shots of the inside of the book before anyone had signed it.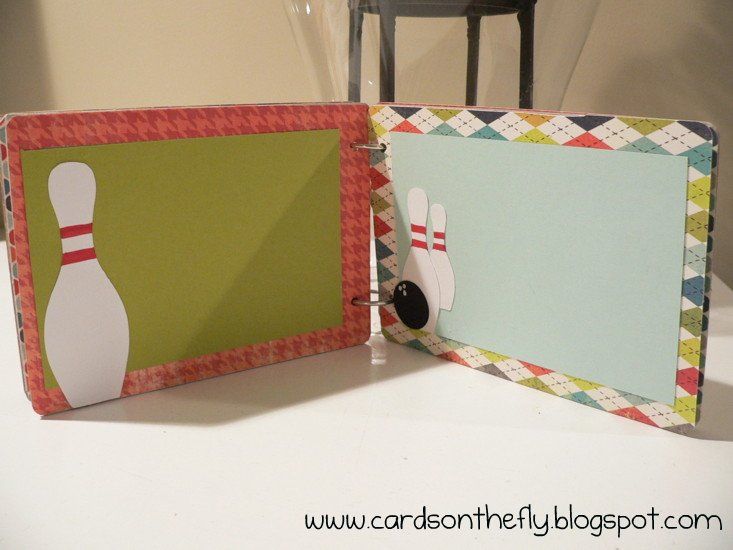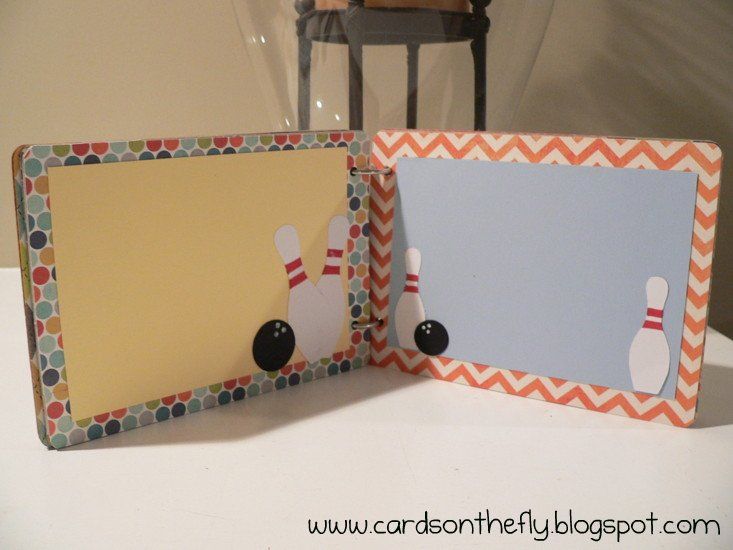 Here's a look at one of the pages after it had been signed.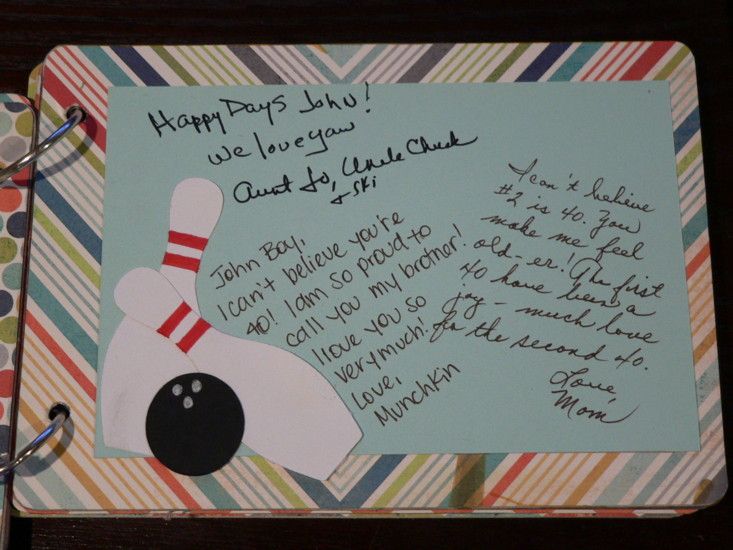 Now, here's a look at my favorite page, signed by our oldes son at the party.
John was really surprised, and everyone (all 50 of us) had a great time!! Here are a couple of shots from the party (sorry the second one is so blurry, but it's the only one I have of the whole group...I sure hope someone else's turned out better than mine!).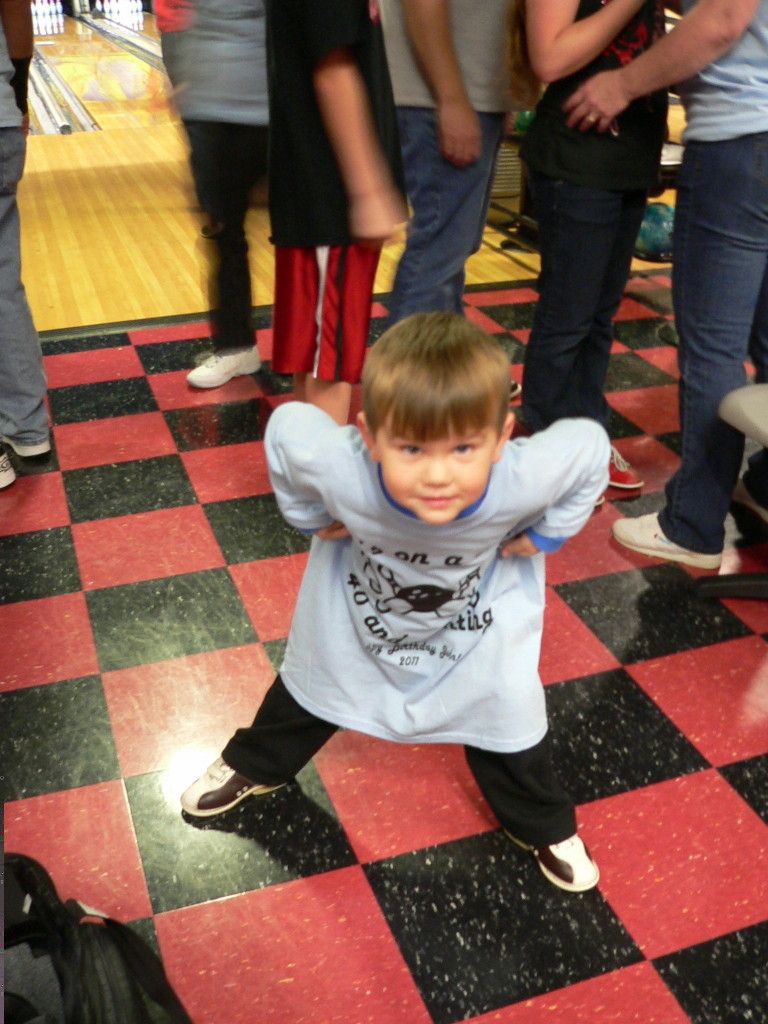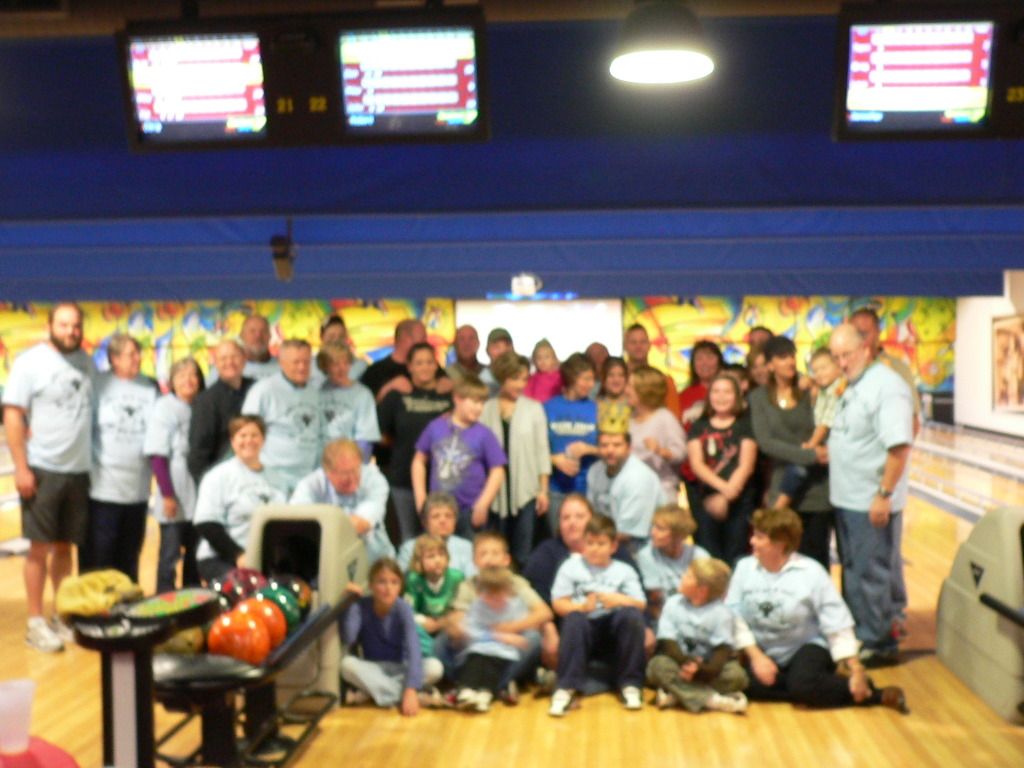 As always, thanks for visiting! See you tomorrow!
Paper: My Mind's Eye Lime Twist collection
Cricut Cuts: Plantin Schoolbook (40th) and SVG files (bowling balls and pins)
Other: Chipboard Pages and Rings from Michaels dollar bin, Alphabet Stickers from my stash