Hey 'yall! So, I think I mentioned that my son had walking pneumonia this past weekend. Well, guess who has it now??? ME! I really don't feel bad at all, but I was feeling the rattle in my chest and thought I should go to the doctor and nip it in the bud. I seem to be prone to it. Anyway, turns out I have asthma that is triggered by infection, and they did a chest x-ray to confirm the pneumonia. Good times.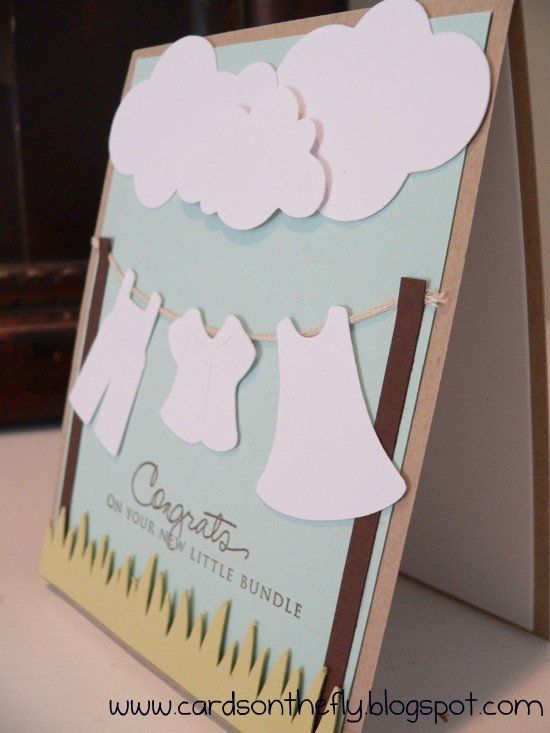 Anyway, I'm so excited about today's project. A few months ago I announced that I was starting to sell some of my creations at a local baby boutique. Well...the gal that owns the place has asked for more cards!! Yea!!! This one is the first in my series of four for this order. It also happens to be my favorite of the four!
I love the color combo, the sentiment, and the subject matter. I absolutely love to see clothes hanging on the line, blowing in the breeze. It reminds me of when I would spend summers at the beach with my grandma growing up. Great memories!! I sure hope the customers like this one as much as I do!
Thanks for visiting!
Kate
Ingredients:
Paper: PTI Kraft, White, Dark Chocolate, Aqua Mist and Spring Moss cardstock
Cricut: April Showers cart, Plantin Schoolbook cart, and Everyday Paperdolls cart
Stamps: PTI Signature Greetings
Ink: Burnt Umber Palette ink
Other: Cream embroidery floss