Hey 'yall! I just got back from church and we have a full day planned, but I wanted to sneak in a post before things got going. The boys have a scouting event this afternoon - Space Rocket Derby. They put together these balsa wood rockets and they get to go race them this afternoon. I don't know who's more excited/nervous - the boys or JOHN!! Anyway, I'm really looking forward to dinner out tonight for my birthday! This is my last day of being 35, and we're celebrating with my family at Famous Dave's tonight. They have the best BBQ sauce and the absolute BEST cornbread! It's like cake! Tomorrow I get to stay home with the guys and hang out in our pjs all day. I can't think of a better way to spend my birthday!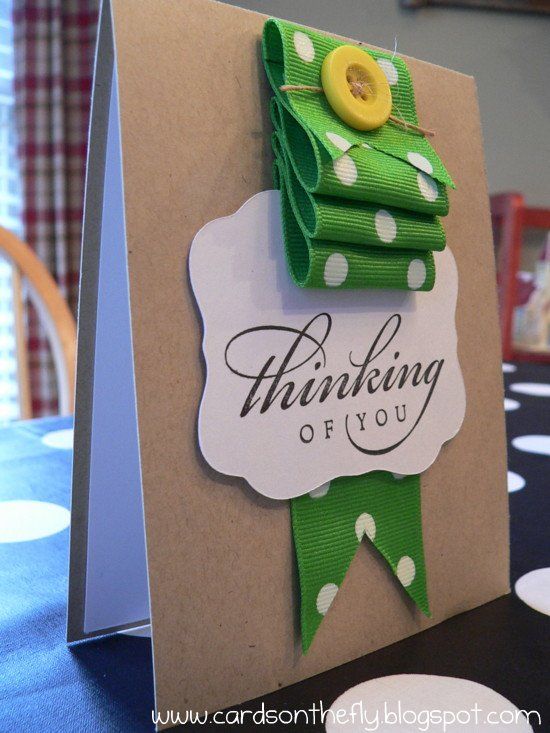 Today's card is my 3rd in the latest baby series of 4. The idea for this one was totally taken from
this card
by Laura Bassen for one of PTI's Make It Monday challenges. I actually like how hers turned out better, but this one will do. I used neutral "baby" colors so that it could be for a mom having either a boy or a girl, but this card could also be for someone who isn't having a baby since the sentiment is pretty generic!
I think that I will make more versions of these with different ribbon more tailored to either a boy or a girl next time. I sure hope that Laura is ok with me using her design!
Thanks for visiting! Look for the last in this series tomorrow!
Kate
Paper: PTI Kraft and White
Other: Ribbon from WalMart, yellow button from my stash and button twine