Hi friends! Well, this weekend was a busy one! My husband had a training class on Saturday, so I took the kids up to church to join in the yearly thorough cleaning for two hours. I then dragged them through the craft fair that was also going on at church. I then took them to McD's as a reward for being so good. We then headed to WalMart to shop for gifts for the THREE birthday parties we had been invited to! The first party was that afternoon, and it was for our cousin Landon's 5th birthday. Sunday, we attended mass and then my husband and I split up to take the kiddos to the two remaining parties for two different school friends. Finally, Sunday evening I was able to sneak away for a little while with my girlfriends for a much needed night out!
For each of the birthday parties, I created a card which I used to decorate each child's gift bag. Today, I'm sharing the card and bag I created for Landon. I TOTALLY copied this card from
the one that Dawn McVey did for the last Papertrey release
. While they are not EXACTLY the same, they are pretty darn close! Thanks for the idea/inspiration Dawn! Sometimes a girl just needs a little help!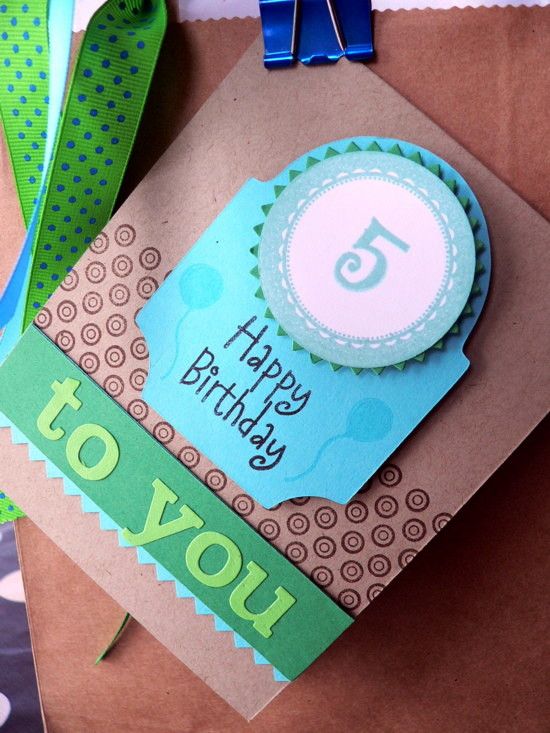 I just love the colors on this card (Kraft, White, Simply Chartreuse, Hawaiian Shores, and some green I had on hand)!! I used one of the Background Basics: Retro stamps for the background, the Tag-its #10 for the circle and the balloons in the background, the Recollections Alpha Toon stamp set for the #5, and the Hero Arts Birthday Messages set for the Happy Birthday sentiment. I used one of PTI's limitless layers dies for the background circle, and the new alphabet die for the "to you".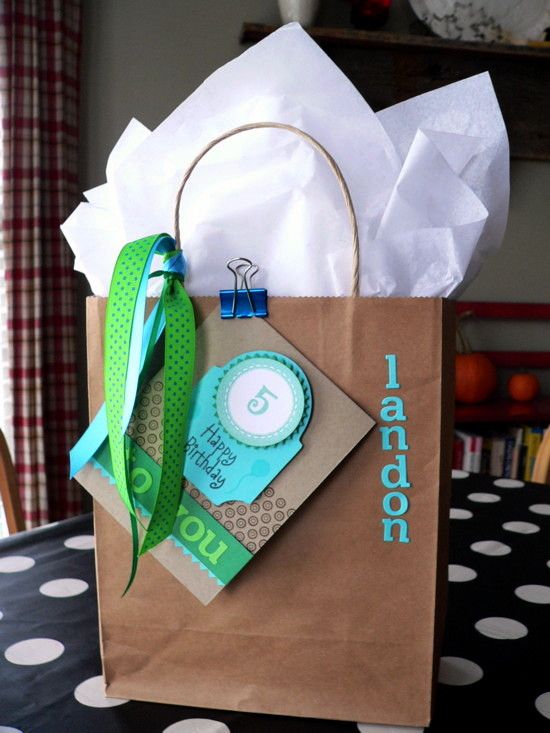 To dress up the plain kraft giftbag, I attached the card to the bag with a binder clip and added some ribbon in coordinating colors. I also cut out the letters of Landon's name using the alphabet die and just adhered it right onto the bag. This is such an easy way to dress up a plain bag!
The party was lots of fun, and the kids had a great time hanging out with their cousins! Tomorrow I'll post another one of the gift bags from the birthday marathon weekend!
As always, thanks for visiting!
Kate