Hi everyone! I've missed you! I have actually been really crafty lately, and have about 10 projects to share with you, but guess what??? I live in Louisville, KY and it is the week before the first Saturday in May...anyone know what that means?? (No fair shouting out the answer all you fellow Louisvillians!) It's DERBY WEEK!! There is so much going on around the city this week, and sadly I'm not participating in any of those events, however I AM getting my house ready for the big day this coming Saturday. We have a huge party every year (I invited 90 people this year...gasp! Luckily no more than half will actually come) and I have lots to do to spruce up the house. I just love hosting parties because they force me to turn all of those want-to-do projects into finished projects!
Aside from all the Derby excitement, we are in full swing (pardon the pun) with baseball season around here. I would love to tell you that baseball is my sons' favorite sport since that's the case for my husband and I, however their favorite sport is always the one they are currently playing. With three boys, there are lots of sports being played around here all the time...most of them in my living room!! John and I really love baseball. I can remember many an evening while pregnant with our first kiddo, sitting around with John, beating him at cards and listening to a baseball game in the background. Those were such great times. I can totally see us all wrinkled and gray watching baseball and sipping lemonade. It is just such a great All-American game!
Anyway, I digress...today's crafty project was a result of the A-MAZ-ING
video by Nichole Heady
for this week's edition of her Make-It-Monday series. This week she spent a whopping 22 minutes demonstrating her creative process. She created a card from start to finish using the colors from a great image as her inspiration. In addition to this great video, she also provided us with some awesome color combination suggestions to start us off on our own creation. The combo I chose was this:
I love these colors, but I don't know that I would necessarily have put them all together (especially the Berry Sorbet with the other ones), but I'm loving how my project turned out. What do you think?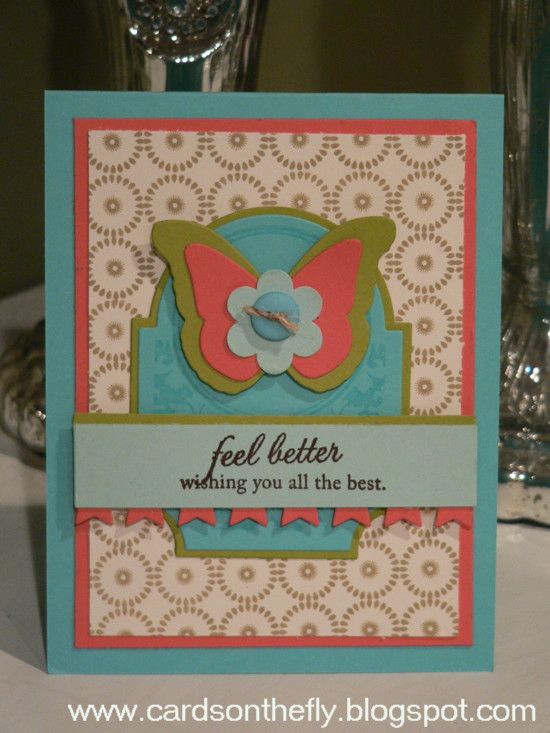 One great point that Nichole reminded me of in her video, was the use of the rule of threes. This design "rule" suggests that things (colors in this case) should be repeated or used in "threes". You may notice that I tried very hard to follow this rule when making this card. I think that I succeeded with most of the colors, except for the Aqua Mist. I had to cheat with that one a little bit and lined the inside of the card with this color to get it on there a third time...not sure this really counts with the rule of threes, but I just couldn't figure out how to get it on the front of the card one more time and make it make sense.
Here are some more pics of my project: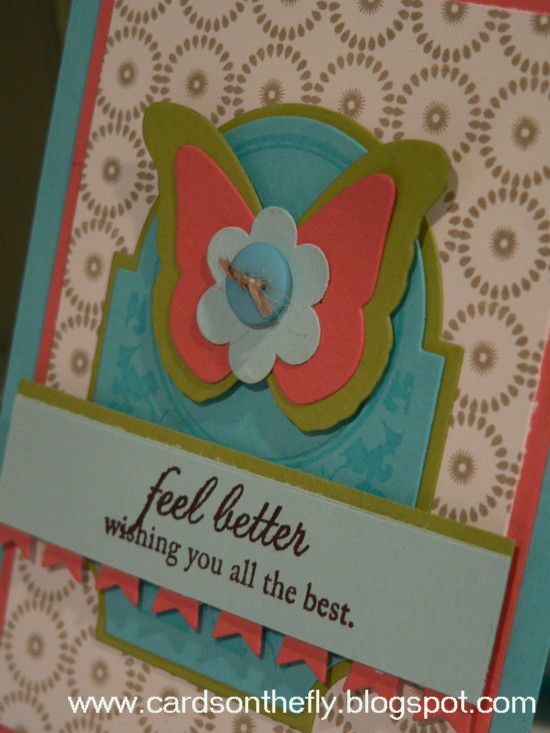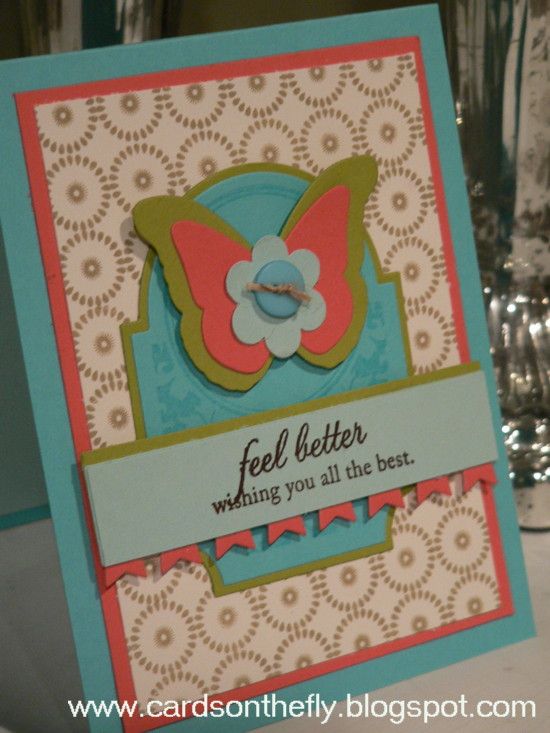 Thanks for visiting with me! I think that I'll have another entry for this challenge later in the week, but....no promises!
Kate
INGREDIENTS:
Paper: PTI's Vintage Cream, Hawaiian Shores, Simply Chartreuse, Berry Sorbet, and Aqua Mist
Stamps: PTI's Mat Stack 3, Mat Stack 5, and Background Basics: Medallions
Ink: PTI's Classic Kraft and Dark Chocolate, and VersaMark
Dies: PTI's Mat Stack 3, Mat Stack 3 Layerz, Super Stars Border, Signature Series Butterfly, Butterfly
Other: Button from stash, button twine, and flower punch (no idea what brand)