Hi there! I'm back with another take on this week's
Make-it-Monday Challenge
on Nichole Heady's blog. This time, I decided to use one of my own photos for my color inspiration. I was in Target the other day when I ran into this collection of gift wrapping. I instantly fell in love with the color combo.
I took this photo several weeks ago and have had it in my mind ever since. Now, I have to admit that when I started my project I had this photo in mind, but I didn't actualy have the picture in front of me. I chose the colors below strictly from "memory". I now realize that they were definitely off, and I plan to do another project that will hopefully more closely reflect the colors in my inspiration.
So without further ado, here are the colors for THIS project:
And drum roll please.....ta da!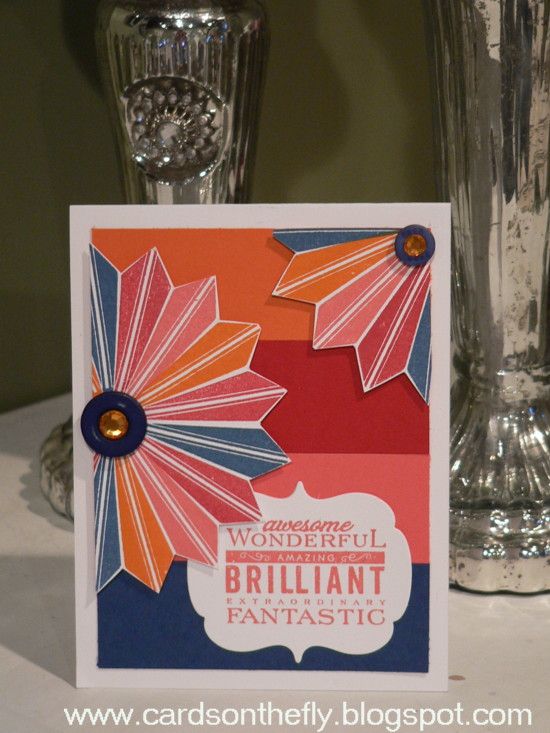 I'm really pleased with how the card came out, and I am really pleased with the color combo even if it doesn't exactly match the inspiration. It's still a good combo, right?
The flowers were made with one of the tie stamps from the World's Greatest set and then hand cut. Super simple and super cute!
Thanks for visiting! I'm off to create some more! I'm so inspired!
Kate
INGREDIENTS:
Paper: PTI's White, Canyon Clay, Pure Poppy, Berry Sorbet, and Enchanted Evening
Stamps: PTI's World's Greatest and Movers and Shakers Sentiments
Ink: PTI's Pure Poppy, Canyon Clay, Berry Sorbet, and Enchanted Evening
Other: Buttons and rhinestones from my stash