Hi everyone! I'm back with another one of my creations for the baby boutique. This one is a gender neutral baby card. I knew that I wanted to make a onesie card from the start, so I got to work on this little cutie!
The onesie is cut from Wall Decor and More and the "rickrack" is from Plantin Schoolbook. I used my Gypsy to weld a bunch of the rickrack together to make some long strips. Once they were cut out on the cricut, I cut them down to fit the different parts of the onesie. It was easier to "mold" them to the shape of the onesie that way.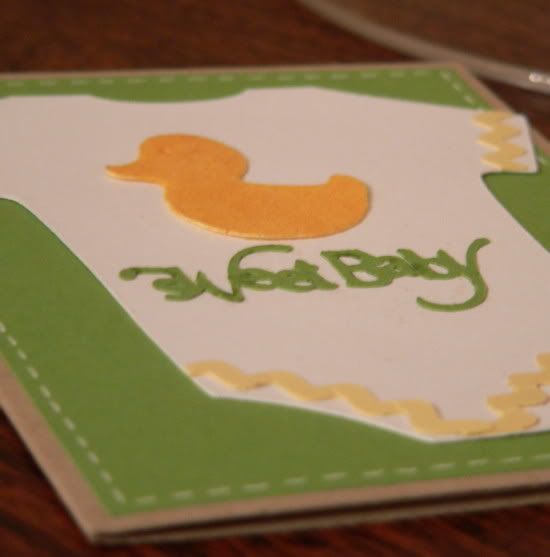 The little duck is from Wild Card. I cut him out on yellow cardstock, ran the cutout through my Xyron sticker maker, and applied some yellow flocking. I love the dimension and softness this brought to the design.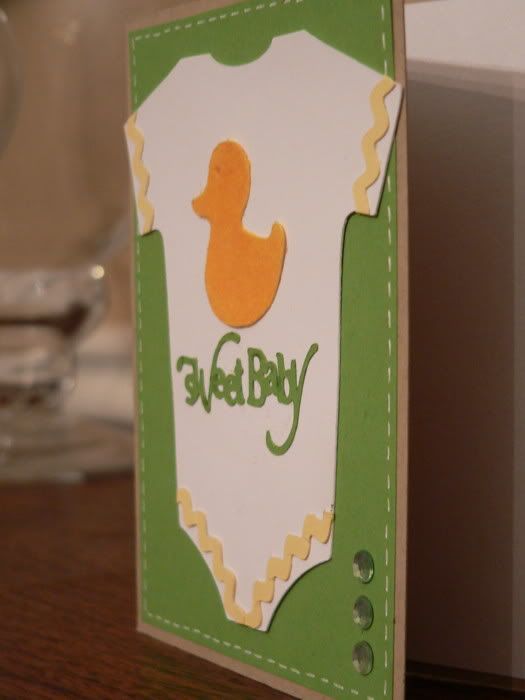 The sweet baby sentiment is cut from Gypsy Wanderings. I have to say, this was a little tricky because at first, I used some cardstock that was just too thick which made the cut sort of "messy". It was much better once I switched to some "lighter" cardstock.
I added a few crystals and some white faux stitching with a gel pen and the masterpiece was complete! As always, I appreciate you visiting and I will be back (hopefully) tomorrow with another creation! Stay tuned!
Kate